Experience the Romance of Venice with a Gondola Ride
Contents
Quick Facts On Venice Gondola Ride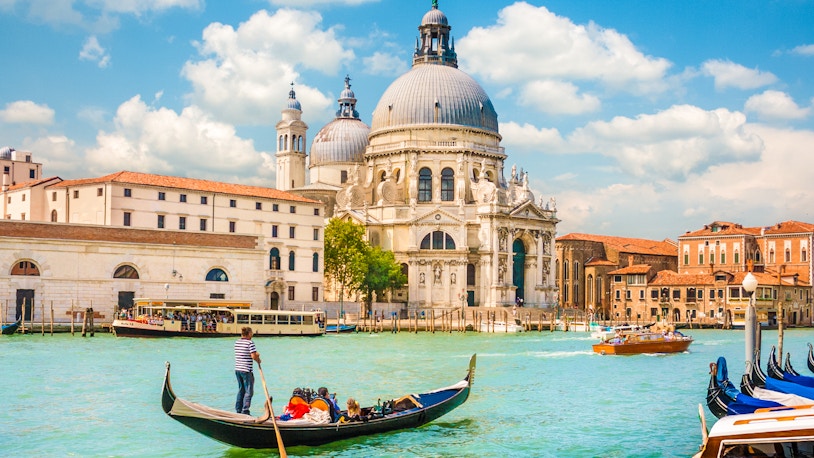 Duration: 30 mins - 1 hour
Season: November-March
Stations : St Marks Sqaure, Rialto bridge and other squares of the city
Suited for: Everybody, including children and senior citizens
Capacity: 5-6 passengers
Average dimension of a gondola: 11 m; width: 1,45 m; depth: 1m
Woods Used to build a gondola: Oak, Fir, Cherry, Larch, Walnut, Linden, Mahogany, Elm
Number Of Woods Used: Hand-made with 280 pieces of wood
Total Number Of Gondolas: 400+ gondolas in the Venetian Lagoon
Plan Your Visit To Gondola Ride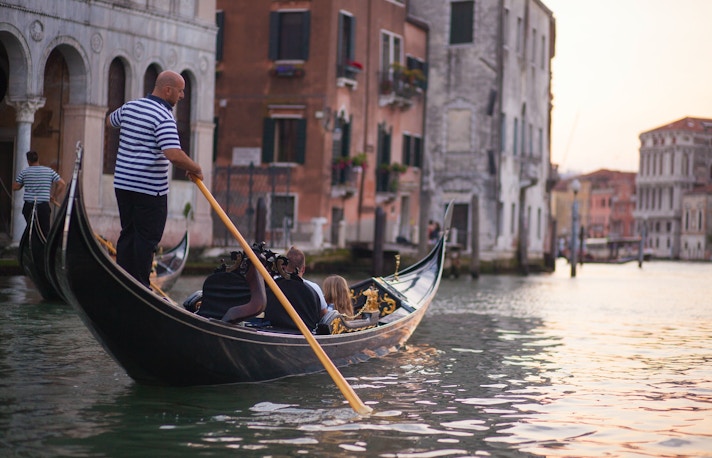 Timings
What is the average duration of a gondola ride?
A typical gondola ride in Venice lasts between 30 minutes to an hour.
What are the timings for gondola rides in Venice?
Gondola rides take place throughout the week, generally operating between 11:00 AM to 7:30 PM. The ideal time to get on board will be during the sunset.
What is the best time to go on a Venice Gondola ride?
For a serene experience, go early in the morning after sunrise. Late afternoon/early evening offers a romantic setting with golden hour lighting, while nighttime provides an enchanting atmosphere with illuminated canals and city lights.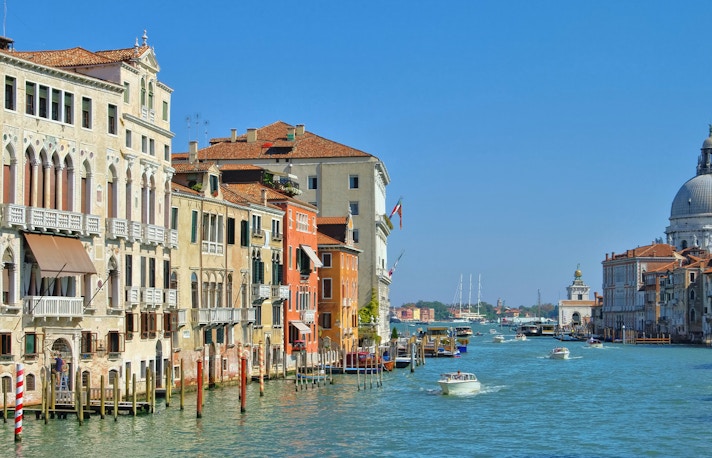 Getting There
Where is the Grand Canal located?
Grand Canal is located at 30100 Venice, Metropolitan City of Venice, Italy.
How can I get to the Grand Canal?
The best way to get to the Grand Canal would be through Venice's rail line service since it is connected by all local, regional and high-speed trains. Get down at Venezia-Santa Lucia train station and as you exit, you'll see the majestic Grand Canal right in front of you.
Highlights of the Venice Gondola Ride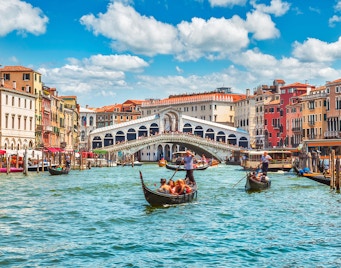 The Grand Canal
This is the main canal that runs through the heart of Venice and is lined with historic palaces and churches. From the water, you can get a great view of the colorful buildings that line the canal, as well as the many boats that navigate it.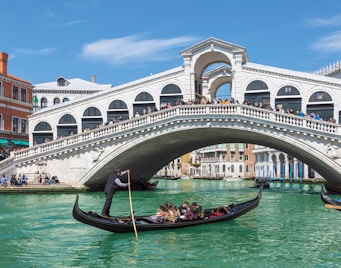 The Rialto Bridge
This is one of the most famous landmarks in Venice, and is a must-see on any gondola ride. From the water, you can appreciate the beauty and intricacy of this iconic bridge.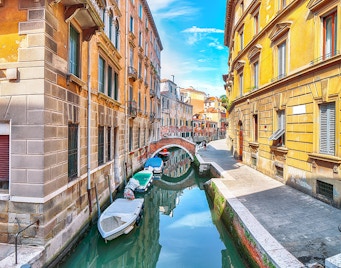 The Bridge of Sighs
This ornate bridge is another of Venice's most famous landmarks, and is named after the sighs of prisoners who would pass over it on their way to prison.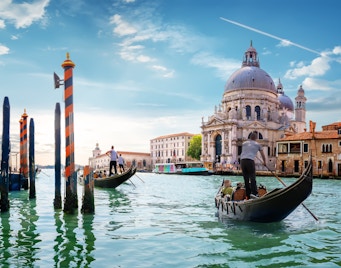 San Giorgio Maggiore
This small island in the Venetian lagoon is home to a beautiful church and monastery designed by the famous architect Andrea Palladio. From the water, you can appreciate the stunning architecture and enjoy panoramic views of the city skyline.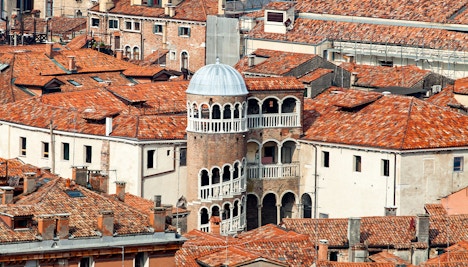 Palazzo Contarini del Bovolo
This is a unique and beautiful Renaissance palace that features a spiral staircase with an external facade. From the water, you can see the palace's distinctive tower and admire its intricate design.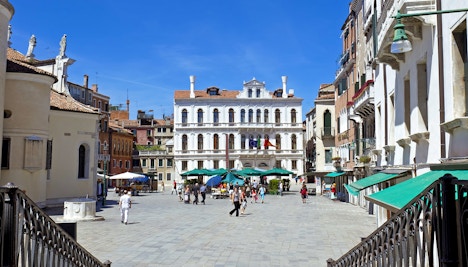 Campo Santa Maria Formosa
This is one of Venice's largest and most picturesque squares, surrounded by historic buildings and a beautiful church. From the water, you can see the square's lively atmosphere and the intricate details of its architecture.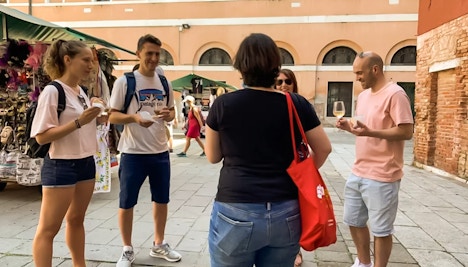 The Jewish Ghetto
Venice's Jewish Ghetto is one of the oldest in the world and is home to several historic synagogues and cultural institutions. From the water, you can see the unique architecture and learn about the area's rich history.
How To Book Venice Gondola Ride?
Frequently Asked Questions On Venice Gondola Ride
What is a Venetian Gondola?
A Venetian gondola is a traditional, flat-bottomed rowing boat that is closely associated with the city of Venice, Italy. A gondola ride in Venice is a traditional Venetian boat ride through the city's canals, typically lasting around 30-40 minutes.
How much does a gondola ride cost in Venice?
The cost of a gondola ride in Venice can vary depending on factors such as the time of day and the route taken, but prices typically range from around 80-120 euros.
How many people can take part in a gondola ride?
A traditional Venetian gondola can typically accommodate up to six passengers, although it is more common for gondola rides to carry two to four passengers. If you are a small group or a couple, you might share the gondola with others to reduce costs. If you prefer a private and intimate experience, you can book the entire gondola for your group.
What to expect on a Gondola Ride?
During a gondola ride in Venice, you can expect to be gently glided through the narrow and picturesque canals of Venice by a skilled gondolier. The gondolier, dressed in traditional attire, stands at the rear of the boat and expertly maneuvers the gondola using a single oar. The ride will take you past historic buildings, quaint bridges, and beautiful architecture, offering a different perspective of the city from the water.
Are gondola rides in Venice safe?
Gondola rides in Venice are generally considered safe, as gondoliers are licensed and experienced operators who are trained to navigate the city's canals.
Are gondola rides in Venice wheelchair accessible?
Gondolas are not typically wheelchair accessible, as they have a narrow, low-slung design that can be difficult to access for those with mobility issues. However, some gondoliers may be able to accommodate certain accessibility needs.
What is the best time of day for a gondola ride in Venice?
The best time of day for a gondola ride in Venice can depend on personal preference and factors such as weather and crowds. Some people prefer early morning or late evening rides for a quieter, more peaceful experience, while others enjoy the bustling energy of midday rides.
Is live music available with each gondola ride?
It depends on your booking. Some gondola rides include live music serenade, while others don't. You would have to specifically book a gondola ride that includes live music.
Is my gondola ride in Venice private or with other passengers?
The tour is not private but a shared experience with other guests; a gondola can host a maximum of six people.
Where to go on a Gondola Ride?
The most popular routes for gondola rides in Venice are along the Grand Canal and smaller, quieter canals in the San Marco and Rialto areas. However, gondola rides can be found throughout the city, and you can customize your route based on your preferences.
Where is the best place to start a gondola ride in Venice, Italy?
There are several starting points for gondola rides in Venice, but two of the most popular areas are near St. Mark's Square (Piazza San Marco) and Rialto Bridge (Ponte di Rialto). These locations offer easy access to the Grand Canal and the charming network of smaller canals.
Why are gondola rides in Venice so expensive?
Gondola rides in Venice may appear expensive due to various factors. First, gondolas are handcrafted and require significant skill and labor to build and maintain, making them valuable and unique pieces of Venetian craftsmanship. Second, there is a limited number of licensed gondoliers, and the demand for gondola rides from tourists is high, especially during peak seasons. As a result, the cost of a gondola ride reflects the exclusivity of the experience, the rarity of skilled gondoliers, and the maintenance costs associated with these beautiful boats
What should I wear for a gondola ride in Venice?
There is no specific dress code for a gondola ride in Venice, but it's recommended to dress comfortably and appropriately for the weather, as well as to wear flat, non-slip shoes.
Can I bring food or drinks on a gondola ride in Venice?
It's generally not recommended to bring food or drinks on a gondola ride in Venice, as spills or litter can damage the boat and the environment. However, some gondoliers may allow water or small snacks.